Secondary Highway 556 - Images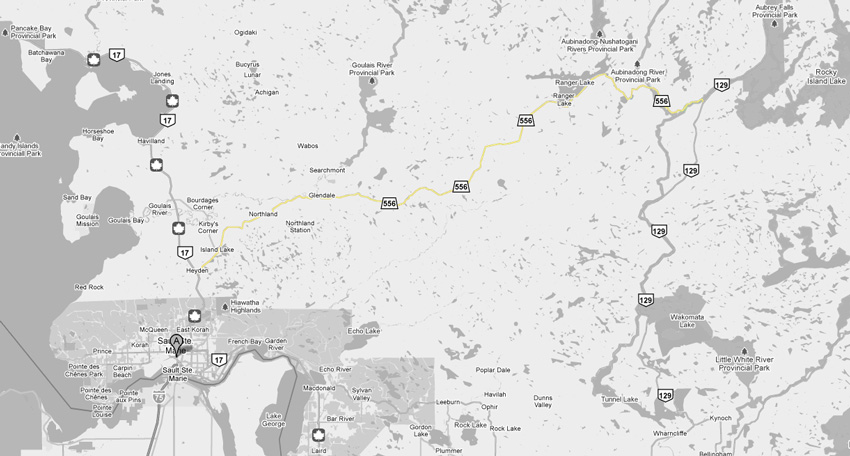 Photos shown in this table are arranged from West to East:
Proper Municipality Name
Photo Description
Photo

Pictures taken from driver's perspective appear offset from centre-line pictures:

East-
Bound
West-
Bound
District of Algoma
Easterly view along Highway 556 at Ranger Lake. This view is pretty indicative of Hwy 556 between Hwy 532 and Hwy 129. Note the gravel surface and lack of any barrier separating the highway from the lake. While Highway 556 is an excellent road between the Soo and Searchmont, east of Searchmont Hwy 556 is arguably the most substandard secondary road in the province of Ontario.
Photo taken: August 11th, 2011.
District of Algoma
View looking west along Highway 556 from the Highway 129 junction.

Photo taken: July 2nd, 2004.


Low-res High-res
District of Algoma
Advanced junction assembly denoting the eastern terminus of Highway 556 at Highway 129.

Photo taken: July 2nd, 2004.

Low Res



High Res
Highway 129 leads traffic between Thessalon and Chapleau. Click here for Highway 129 images.
---
<- Highway 555 Images Back to Highway 556 Highway 557 Images ->
---
Copyright (c) 2004-2011, Scott Steeves (Webmaster) scott@asphaltplanet.ca